Types of landscaping can be classified in two broad categories, softscaping and hardscaping. Softscaping is, of course, the organic parts of the site such as grass, trees and plants. Hardscaping is the non-living parts of the landscape. Hardscaping can often be overlooked or an afterthought by property owners, but hardscapes create beautiful effects in a landscape and make the difference between a stunning setting and an ordinary one. It can add really impactful elements to your yard or property, add value to your property and can be installed for a specific purpose such as for drainage, retaining soil or slopes, steps for better accessibility or to add shade.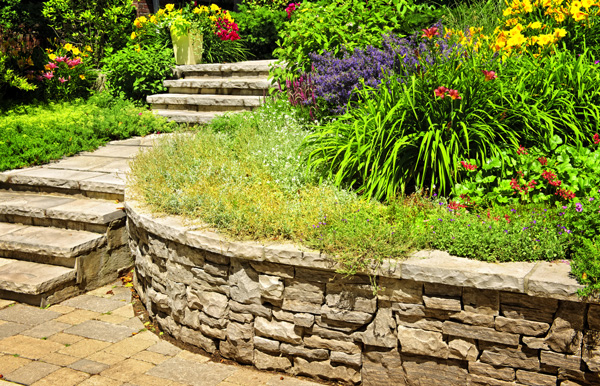 The following are some of the types of hardscapes we create:
Rock gardens and boulders
Rock waterways and drainage
Firepits and outdoor fireplaces
Retaining walls are built to hold back and retain earth and soil due to erosion, high slopes, slide prone areas and water run off. They can also add beautiful elements to a landscape. It's very important to hire an experienced professional to build retaining walls to ensure the walls are structurally sound. You don't want them collapsing and having to deal with damage caused by an improperly built wall. We are often called to fix retaining walls that have been improperly built.
Walls can be built from many different materials such as stone blocks, flagstones, natural stone, boulders, concrete blocks, interlocking pavers and composite material. When designing your landscape and planning for a retaining wall, we'll discuss with you the type of material to use in order to maximize the beauty of your landscape, maximize the strength of your budget and also achieving any structural and functional requirements.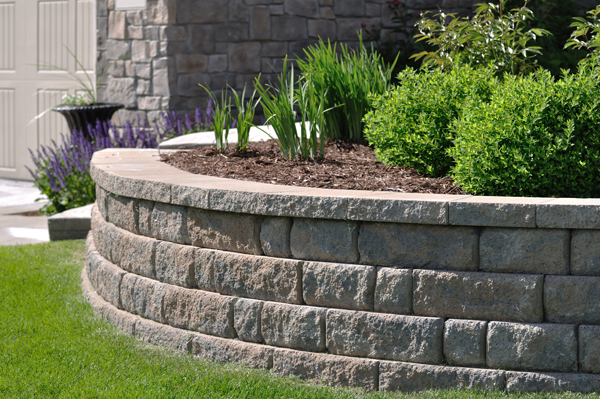 We can handle any type of hardscape installation including residential, new construction, institutional, and commercial and any size job from walls around flower beds to large commercial projects.
Call us today, we guarantee all work and want you to be not just satisfied, but thrilled with our services. If you are not completely satisfied, we will come back and fix it at no extra charge.
10% Off for First Time Clients