When establishing a new lawn, or patching an existing lawn, there are two primary methods, seeding or sodding. The first question that always comes up is should I seed or should I sod. The biggest differences between the two are the time it takes for the lawn to reach maturity and the cost. Sodding is more expensive but it's also an instant lawn and can be done during anytime of the year as long as the ground is not frozen. Seeding can take 10 to 14 days to germinate and up to 3 months to establish and grow into a mature lawn. There is a little more of a planning aspect with seeding as it needs to be done during early summer or late fall. Another difference is sodding is limited to certain grass types. With seeding, you have more grass types to choose from.
When considering what will work best for you lawn, it's good to know what types of grass grow well in our climate. Grass must be adapted to our zone to for your lawn to thrive.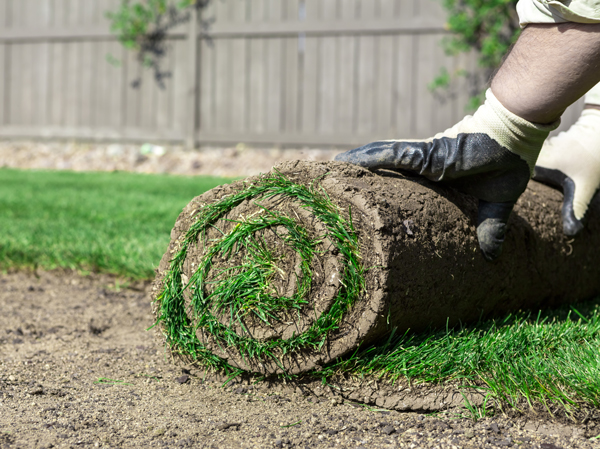 The following grasses perform well in the Indianapolis area:
Perennial Ryegrass
Ryegrass is a cool season grass that peaks in growth during cool seasons and performs well when summers are moderate and winters are cool. It has fast germination and seed growth. It is also heat and drought resistant in many varieties.
Kentucky Bluegrass
This is one of the most popular grasses in the United States. It produces very lush and robust lawns but also requires maintenance for the grass to live up to it's potential. It has excellent winter hardiness but limited shade tolerance and grows best in full sun.
Fine Fescue
One of the benefits of this grass is that it can tolerate poor soil conditions such as clay, sandy or rocky soil. It is very cold tolertant and performs well in cold climates. It has great shade tolerance and is a very low maintenance grass. The cons of fescue are it doesn't handle foot traffic well and can develop thatches.
Tall Fescue
This grass is very drought resistant as it has one of the deepest root systems of all of the grasses. It prefers full sun but is tolerant to partial sun. It has great wear recovery so it's recommended for recreation areas or areas with high foot traffic
We can handle any type of sod installation or seeding including residential, new construction, institutional, and commercial and any size job from yard patches to large commercial projects.
Call us today, we guarantee all work and want you to be not just satisfied, but thrilled with our services. If you are not completely satisfied, we will come back and fix it at no extra charge.
10% Off for First Time Clients